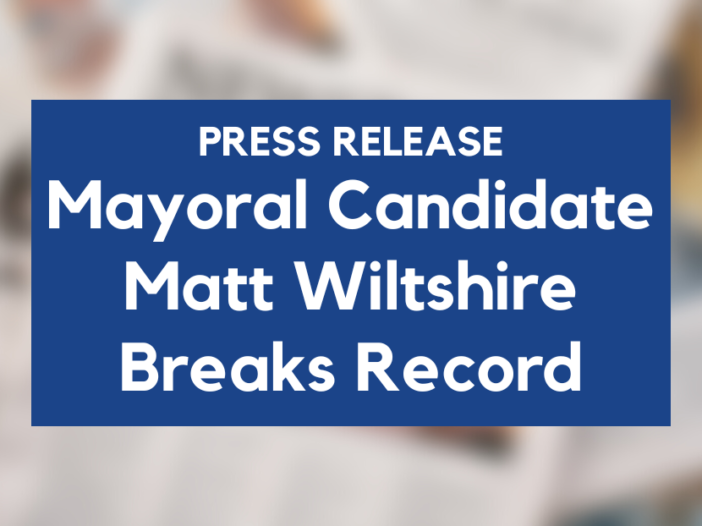 Over $1.75 million raised since launch of campaign
CONTACT:
Kyle Buda, Matt for Mayor
Kyle@wiltshire.com
(517) 862-1107
NASHVILLE, TN – In the ten weeks since the January 15th financial disclosure Matt Wiltshire raised over $516,000. This, combined with the more than $1.24 million raised in the prior reporting period, brings the campaign's total raised to more than $1.75 million.
The $516,000 raised in the first quarter reporting period was all from donors as Wiltshire did not make any additional loans to the campaign. When combined with the nearly $900,000 raised from donors in the prior period, the campaign has raised more than $1.4 million from individual donors since it launched. This is more than any Nashville mayoral campaign has ever raised from donors through the General Election, which is approximately four months away.
Wiltshire's strong fundraising performance has been buoyed by over 2,200 contributions coming from more than 1,600 unique individual donors.
The campaign will report having more than $1.4 million cash on hand at the close of the first quarter.
The record breaking fundraising haul is just the latest sign of growing momentum for the Wiltshire campaign. The latest PowerPoll asked participants who they feel is most likely to win the Mayor's race and Wiltshire emerged as the overwhelming favorite of the respondents.
"Nashville is a city with virtually unlimited potential, but right now we're at a crossroads," said Matt Wiltshire. "I believe we can tackle the big challenges we're facing. Throughout my career I've taken on big challenges in affordable housing and employment, and delivered results to improve people's lives. I'm inspired by the outpouring of support we've received and am more confident today than I've ever been that we can make Nashville a city where everyone can fulfill their dreams if we work together."